Learning about your family history should be easier today than it's ever been. Unfortunately, many current genealogy websites require you to pay fees just to find out the simplest information available.
This naturally leads one to wonder whether or not there are any high quality free genealogy websites available anywhere online.
Fortunately the answer is yes.
If you'd like to find out more about your family history via genealogy websites, without spending an arm and a leg, you're in the right place.
Below we have compiled the best free genealogy websites you can find on the internet, along with a brief description of what services each one provides.
We've also laid out alternative options you can look for in your own community.
What are the Best Free Genealogy Websites?
There really is no one best free genealogy website. Every Single one offers different services.
If your goal is to create and maintain a family tree, FamilySearch will probably be right for you.
If you want to find out about the places where your family came from you might want to check out a site like The Official Land records.
The basic point is that you shouldn't look at any one of these sites as the be-all-end-all place where you're going to get your family's background information.
Instead view each one as an individual resource that fills in a little bit more of the picture of the development of your family and then keep looking.
There's no telling what you'll find if you're persistent enough.
The following 16 genealogy websites are totally free and usually rely on public funding or donations to stay afloat: 
1. Family Search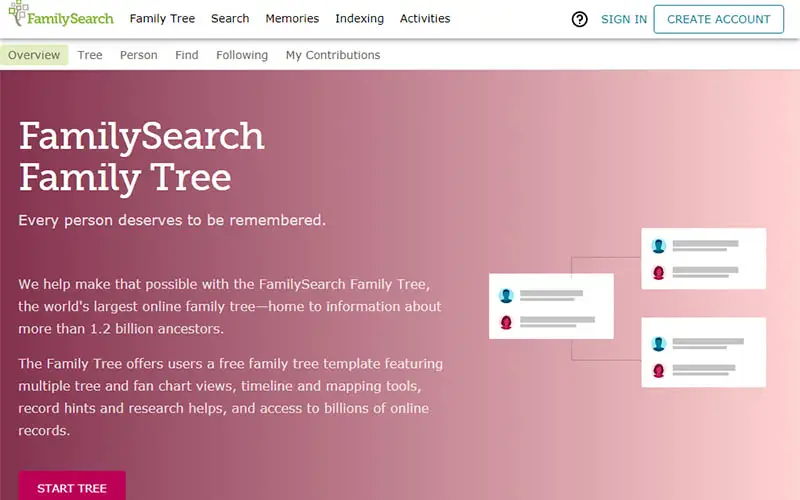 Family Search is the largest free genealogy database online.
It is also perhaps the most widely recommended free website for tracking down your family history.
It allows you to actually create a digital family tree so that you can keep track of everything you've discovered on your journey.
As you go you can continually update it with everything you know about your family so far.
Further you'll have access to a database that can connect with more information on the relatives you have listed, as well as anything else you can uncover. (They also run excellent genealogy courses and webinars).
To do this properly they suggest your family tree go at least four generations back. You simply have to.
If you're looking for a good starting point in researching your family's history, as well as a place to organize the information you've uncovered, Family Tree is the place to go.
2. The USGenWeb Project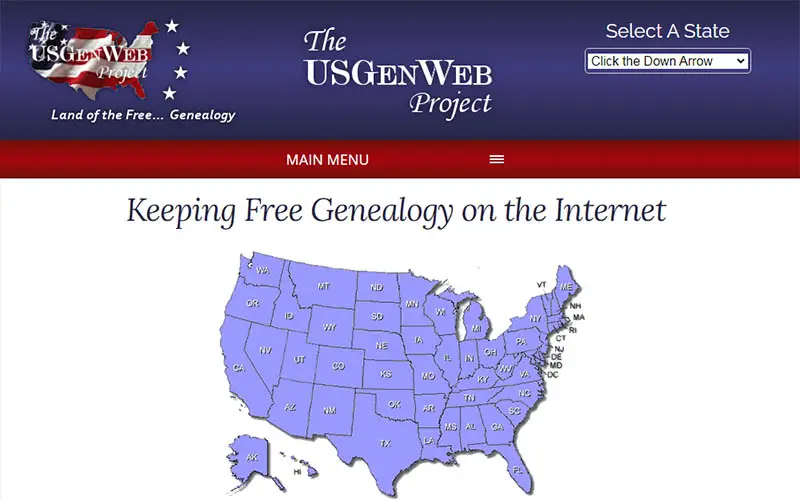 The GenWeb project was founded by genealogist Jeff Murphy and started out solely focusing on genealogy's out of Kentucky.
The aim was to create a comprehensive genealogy website that would be free and maintained by volunteers. Over the years it was so successful and garnered enough attention that it became a nationwide project.
Now-a-days you can use The USGenWeb Project to find links to genealogical records as well as information and tips on how to actually conduct genealogical research. It's definitely deserving of it's place on this list of the best free genealogy websites.
We should note, this isn't just a good website to find information on your family history, it's also a great resource to help you narrow your search and know where to look.
The user interface on the site is quite simple.
You're presented with a map of the United States, where you can click directly onto your state and be directed towards focused resources to help you find exactly what you're looking for.
Over time The GenWeb Project has accumulated an incredible number of awards from Family Tree Magazine, for being a professional, easy to use yet informative website.
This would make for a great first stop as you begin your journey into discovering your family's history.
3. Free BMD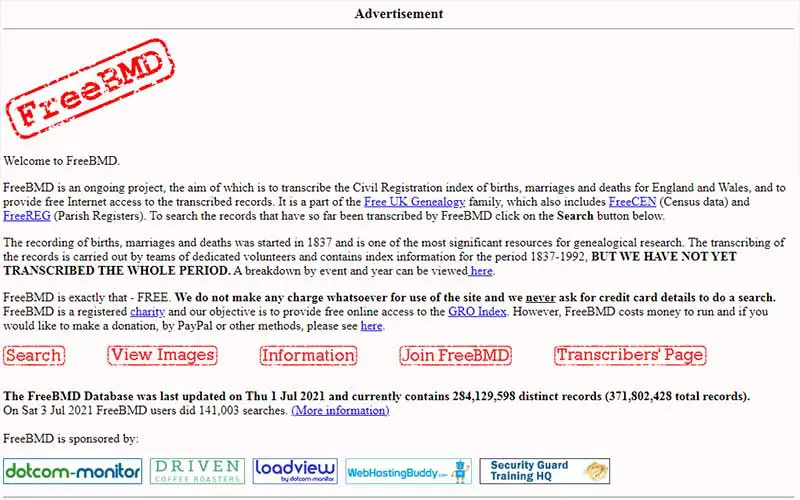 If you didn't like the last recommendation because it was solely US based, maybe this one will be nearer to where you live.
Free BMD is England and Wales specific. The records contained on this site are transcribed birth, marriage and certificate of death records from the years 1837 through 1992.
This is another site that is maintained primarily by volunteers.
While they are working on making it comprehensive, there are still a lot of records from the time period the site covers that are not complete.
Still, this makes for a great entry point and it's well worth a try if you want to find official records without having to pay.
The site itself is relatively plain and simple to use.
It also contains links to other associated sites like Free UK Genealogy, FreeCEN (a site focused on census data) and FreeReg (a site focused on Parish Registers).
4. African American Genealogy Buddies (AfriGeneas)
The name Afrigeneas is shorthand for African American Genealogy buddies.
Based out of Mississippi, they have great resources for discovering African American genealogy.
The user interface on the website is relatively simple and easy to use.
You can choose to use the search bar or you can enter into their records tab.
They have everything from slave data collection–particularly important as these kinds of records have been suppressed in the past–to basic census records.
You can also find marriage records, records of death and even photographs.
This is truly one of the best resources for genealogy research on the internet.
5. Find My Past
Find My Past, has millions of records at your fingertips. With their search engine you can find travel records, vital records and census data.
They make for a great place to start hunting down your family's past. Their user interface is quite simple.
When you visit their site you're presented with a button that says "search free records." You just need to click there to get started.
We should note here however that they require you to either make an account or sign in with something like your Facebook to gain access. That said, it's still free. You can't really complain about that.
6. JewishGen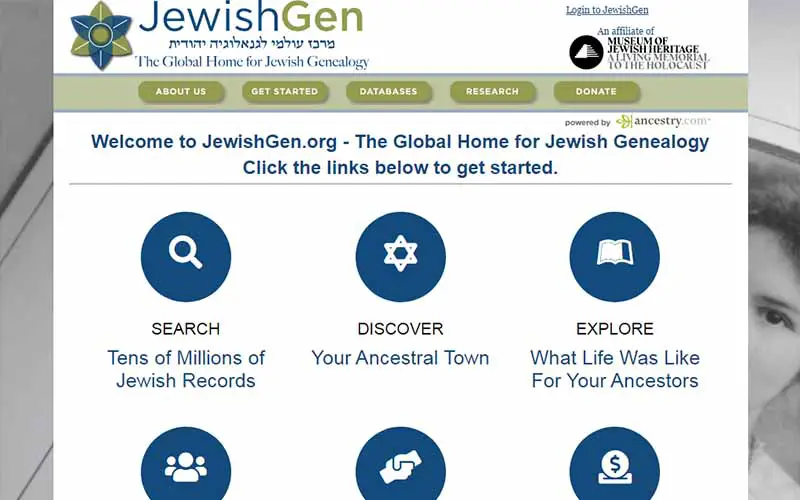 Jewish Gen is a genealogy website made specifically for those with Jewish ancestry.
You can search tens of millions of Jewish historical records as well as information about what the living conditions were like for your ancestors.
The user interface on the site is simple and easy to use.
When you enter it you will be greeted with straight forward buttons that will take you to any part of the site you want to visit.
You can search records, learn about the town your ancestors lived plus background on their lives or even get involved in the project.
7. The Allen County Public Library Genealogy Center
You might want to check out the website for your own local public library.
As a stand in for that, we'll take a look at a library with a particularly incredible dedication to genealogy.
The Allen County Public Library is a great resource for researching your family history. It has over 72,000 family histories from all around the world.
If there's any really interesting stories about your family, you'll likely find something here.
The user interface is quite simple, functioning with a simple search bar that can open up for a more advanced search.
While your there be sure to check out some of their fascinating resources on general history, to get some background on the worlds your ancestors grew up in.
Related: The Ultimate Guide To Sourcing Hard To Find Genealogy Books
8. New York Public Library
Another public library that acts as a great genealogy recourse is the New York Public Library.
Alongside their incredible collection of historical and literary artifacts, they also have an excellent genealogy department.
If you're there you can find a litany of different documents and records that may include something about your family's history.
9. Research Guides for Ship and Immigration Records
If you have ancestors who were immigrants between the the early 1800's through the 60s, you should check out the Research Guides for Ship Passenger and Immigration Records.
Though their user interface is somewhat plain, you can find all kinds of immigration records and ship passenger lists.
They specifically have great records of Canadian and Mexican crossings during the time periods they cover.
There is almost certainly an interesting story behind everyone they feature on their site.
This site could make a great jumping off point to find an ancestor and start piecing together their life story.
10. The National Archives
The National Archives contains a whole litany of information you'll find interesting if you're trying to get into the nitty gritty details of your family's history.
On the site you'll discover census, military, immigration, naturalization and land records.
Another great thing about this site is that they also provide resources to help you learn how to properly care for and maintain the quality of what records you have.
They teach you how to properly handle, store and display old family photos, paper records and more.
Additionally they provide information on how to repair and digitize old records of the same ilk.
If you want to make sure that what you've gathered so far remains in its highest quality form, this is the way to go.
11. Official Land Records Site
The Official Land Records website can be used to source maps and learn about the ancestral lands your family may have had in their possession.
The site has Federal land title records that span from today all the way back 1788.
They also have over 5 million images of those resources for you to explore as well.
There are other images that can be used for genealogical purposes like survey plans or land status records.
The user interface on the site is relatively simple.
You merely need to click on the "search documents" tab and you'll be presented with a highly specific advanced search engine.
It will ask you about the location, names of the owners or inhabitants, land description and miscellaneous info like documents you may have.
The more information you can provide, the more narrow the search results will be.
If you have any trouble they also have a "support" tab that will provide you with an email and phone number to reach out and ask questions.
12. Find a Grave
I promise, Find a Grave is nowhere near as morbid a site as it sounds. In fact it's one of the best free genealogical resources online available to you.
Originally founded by Jim Tipton in 1995 for looking up the gravestones of famous people, Find a Grave took on a life of its own and became a resource for those interested in their family history.
This happened after a growing community of people with similar interests pushed them to open the site to add non famous graves as well.
Now-a-days it's become so popular that it was adopted as a subsidiary of ancestry.com. Though it still relies primarily on the contributions of volunteers.
They contribute by adding graves, updates and corrections to previous mistakes.
Enough of the history.
What exactly can you do on Find a Grave?
Well, you can look up images of your family members' gravesites as well as find out information about their birth/death dates and the cemetery they are buried in.
One of the best features on the site is the ability to find related graves from someone you already know about.
13. Statue of Liberty (Ellis Island, Family History Center)
Ellis Island Family History Center section of the Statue of Liberty website, has tens of millions of searchable records related to the processing of immigrants.
It's often pointed out that over ten million people in the US are related to art lessons by one person who was admitted into the country through Ellis island.
If you do find that you have ancestors who made their way through Ellis Island, you should consider visiting their museum and seeing some of the things your family member might have seen when they immigrated to the country.
If you go to the physical Family History Center you'll be able to view many of these records and artifacts in person.
14. Library of Congress Genealogy
The Library of Congress has part of their website set aside specifically for genealogy. It's a great one spot stop for all kinds of interesting documentation about your family history.
On the site you can find manuscripts, microfilms, newspapers, photographs, maps, and even some published materials.
On a section of the site titled, Chronicling America, you can find incredible photographs of newspapers that stretch all the way back to 1792.
They allow you to search based on everything from the location of the newspaper to key words you might remember.
So hey, if you've got an ancestor who robbed a bank or some other exciting exploit you'll be able to read all about it!
On top of all that, they provide you with a list of subscription services you might want to consider if you decide to take your search to the next level.
These are complete with descriptions of what you can find within each one.
Of course all of these materials are free if you ever find yourself at the physical Library of Congress.
Otherwise those resources do require some payment.
15. Dead Fred
Dead Fred is a free genealogy service that specializes in providing you with photographs of your ancestors. While the name may sound a little morbid, it's actually a very professional resource with thousands of records at your disposal.
The name of the site actually comes from the name of it's founder, Joe Bott's,  great great grandfather. As a homage to a posthumous photograph, he named the site Dead Fred.
Like the picture of Fred, many of the photographs on the site are sent in by family members of the deceased.
The user interface of the website is relatively simple, providing you with a search bar and an alphabetical surname list.
16. Castle Garden
Based off the Port in New York from 1820 through 1892, Castle Garden acted as one of the earliest immigration centers.
The Castle Garden website houses tens of millions of immigration records.
It's another site that could be a great starting point for figuring out what kind of life one of your ancestors lived.
Those interested in searching their records can use what they know of their ancestors' background to conduct searches.
If you have anything from the name of your ancestor all the way to what ship they came on, you can get some info.
Even if you only know the last place they lived at, it's enough to find more info.
The user interface of the website is simple and easy to use.
If you go to the search tab you'll be presented with an advanced search, presenting the categories we mentioned above.
The more information you have to give, the more narrow your results will become.
Understanding the Limits of Free Genealogy Websites
In large part, what delineates free genealogy websites from those which require paid subscriptions is the amount of information they provide in one place.
Most of the genealogy websites that are free, specialize in very specific time periods, groups of people or types of records.
Because of this you often need to have some kind of information ready ahead of time to get a really good result.
This is why you should consider taking advantage of a paid subscription service's free trial period at the beginning of your search.
They will have a broader array of info and records as well as easier search functions that require less knowledge ahead of time.
Genealogy Websites With Free Trials
Okay, now that we've covered all of the best purely free genealogy websites, let's take a look at a few that aren't free long term but provide you with free trials that can be useful for short term research.
For each of these you will likely need to make an account and enter in credit card information.
Just make sure you remember to cancel as soon as you're done with the service.
Ancestry.com
Ancestry.com not only DNA tests to discover your ancestry, but they house the most robust collection of family history in the world.
If you want to quickly find some detailed records for free you can take advantage of their 14 day free trial.
They have unique offers like timelines and life stories of individuals throughout history.
Through this they can also provide background historical information so you can better understand the lives of your ancestors.
All of this is provided on a simple, easy to use interface.
We should also note that there is a completely free search index that contains a variety of documents ranging from census data to military records.
The user interface is as easy to use as the one on the paid side of the site.
It has an advanced search tool that will work more efficiently the more information you have on who you're looking for.
Of course we've also got to take a moment to highlight their DNA test.
This is paid but perhaps something you may want to look into in the future.
It can tell you more about where you came from than most records because it analyzes your DNA for certain genetic components.
Even if you don't know specifically who your ancestors were, you'll know where they came from.
Genealogy Bank
Genealogy  Bank is easily one of the most popular and widely used genealogy websites out there today.
While it requires a paid service to be used long term, they afford you with a free trial that can be extremely useful for short term research.
They have over 300 years worth of digitized newspaper clippings, the biggest collection of obituaries online and a litany of legal documents concerning everything from birth to marriage.
There really isn't a better place to go if you want to learn more about your family but you don't want to pay a fortune.
Just make sure you don't go over the trial period.
Obituaries: The obituaries they connect you with can reach back as far as 1690. These obituaries usually include a summary of a person's life and details about their living relatives, career and the manner of their passing. They are a great way to start delving into the lives of specific people in your family, while also broadening your scope.
Newspaper Records: These newspapers span everything from local to national. There are unique newspapers here from all 50 States.
Census Records: You can access census records to find out more about how your ancestors lived.
Notices: There are a whole slew of different records that include things like marriage and birth notices.
Please remember that this service is only free for seven days.
The strategy we recommend using when you approach this site is to only use it when you know exactly what you want to discover.
Get that information and then immediately cancel your subscription and you're all set.
My Heritage
My Heritage has over 14 billion different records for you to search through.
Plus they have features that allow you to create a family tree and update it as you learn about your family's history.
You can find photos (some enhanced or colorized), birth records, marriage records, death records, immigration records, newspaper clippings and so much more.
They also provide a simple, easy to use search system that allows you to find your ancestors with just a few key details like where they lived or what their last name was.
Really the only catch here is that to continue using the family trees you've gathered or to gain back access to the research you've uncovered you have to pay for a membership.
This is why taking advantage of their free trial period is essential to know if they might be a service you're interested in continuing to use.
Check Out Your Local Historical Society for Genealogy Research
One more place you might want to check may or may not have a website but should be nearby where you live.
It's your local historical society.
Depending on where your ancestors lived, visiting the historical society in that area can prove beneficial to finding genealogical information.
That's because these places are used to patrons who are looking into their families history.
Most historical societies will have a cession of materials that can be viewed within the building.
These can sometimes be in the form of physical documents or digitized slides.
Depending on the historical society in your local area, you might also be able to view their materials online.
What's the Best Free Service for Genealogical Research?
There really isn't one perfect resource that stands out in front of all of the competition.
Rather there are a whole variety of different websites that specialize in specific resources to help you research your family's history.
You'll want to be sure to make a stop at more than one of them if you want to have a clearer picture and discover more about your family.
A great starting place for your journey would be The USGen Web Project. For specific documentation you should check out places like Find a Grave or even The Library of Congress.
Once you have gathered enough research you can use sites like Family Search to piece together a family tree.
While it may require more work than a paid service it'll work just as well.
Related guides: