Humans have always been fascinated with their family histories. In the past, researching your genealogy used to take a lot of effort and time.
Now, however, there are many genealogy software programs and sites that were specifically created to make genealogy research simple.
Many of the genealogy software programs available offer free versions that provide you with limited, but still useful features.
You can purchase or subscribe to a program to get access to the advanced features. Most programs will have both Windows and Mac versions, and you can either download the program or use it in a web browser.
Best Genealogy Software That Works With Ancestry 2023
Keep reading to learn about the best genealogy software that work with Ancestry.
WorldConnect is a large collection of GEDCOM files that were uploaded by users and were free to search.
You can create and upload GEDCOM files using this site. A GEDCOM file, or Genealogical Data Communication file, is the standard file type that is used for genealogical software.
It was created by The LDS Church and is a plain text file that has your genealogical information.
Most genealogical software uses this file type. It makes it easy to transfer information from different versions of genealogy software and sites like Ancestry.
Creating a GEDCOM file to upload to WorldConnect requires the following steps:
Open the tree you want to submit in your genealogy program
Click File
Select Save As or Export
Choose your file location
Save as GEDCOM or GED
Enter the file name
Click Save
Click OK
WorldConnect was created by a grassroots organization, but it is now affiliated with Ancestry.com as a search resource.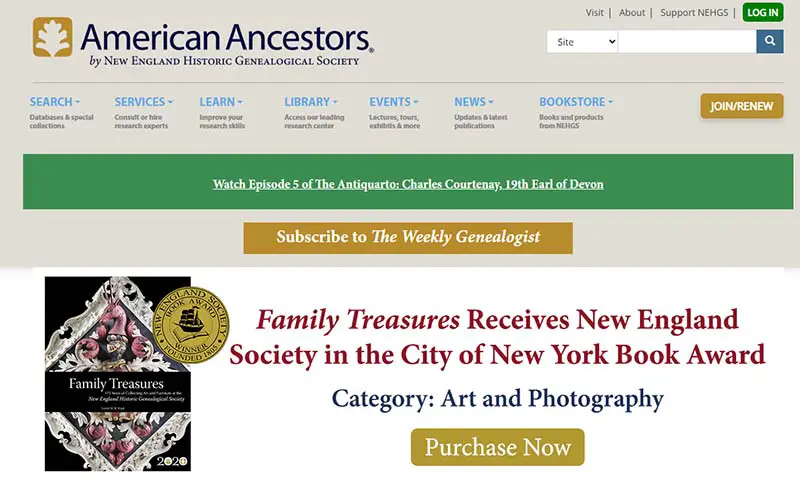 The New England Historic Genealogical Society's mission is to provide resources and education for genealogical research.
Their website, AmericanAncestors.org has many records to search and tips and education on many aspects of researching your genealogy.
Included on their website is:
Searchable database and collections—You are able to search by category, specific record type, and collections.
Genealogists—You can hire the services of a professional genealogist to assist in your research or answer questions.
Digital Library Archives—The digital library and archives contain digitized material from the Wyner Family Jewish Heritage Center, the R. Stanton Avery Special Collections, and the Research Library. It includes personal papers, news, vital records and more.
Subject Guides—The Brue Family Learning Center provides online articles that teach you how to research or use various genealogy programs.
Webinars, Lectures, and How-To videos—You can be connected to the Brue Family Learning Center to watch free videos that give tips  and tools, lectures, and interviews with historians and authors. You may also book online courses and classes.
As with most genealogy search sites and archives, you are able to search and connect the information gathered with your Ancestry account.
A plethora of different learning resources are made available to you with this software, so if you are new to researching about your ancestry, you can use this software to keep yourself well informed.
If you are interested in attending live, upcoming events, then you click on the events tabs and find events that you are interested in.
Some of the events center around improving your genealogical research skills, while others are informative webinars and lectures that can teach you about different parts of history.
Research tours and programs are also available, but they are subject to change and may be cancelled at a moment's notice.
These research tours take you to libraries and repositories where you can devote yourself completely to researching local history and your family's history as well.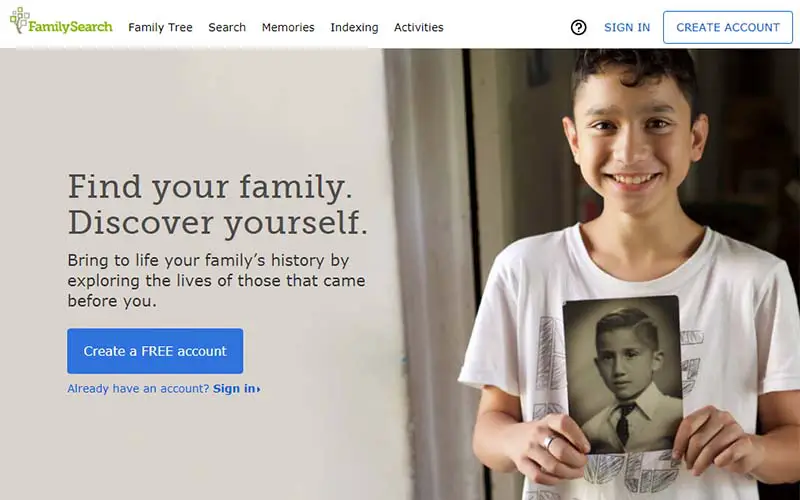 FamilySearch.org is a nonprofit search engine created by the Church of Jesus Christ of Latter-day Saints.
It works both with Ancestry.com and MyHeritage and has more than 10,000 archives available.
There are multiple online activities that are provided:
Where Am I From?: A detailed map that will tell you where your ancestors lived and where they travelled across generations. It provides a detailed heritage of the locations at that time and a timeline of where they were in reference to major world events.
Famous Relatives: RelativeFinder.org shows how you may be related to famous people and each of your relatives, possibly through more than one way.
All About Me: This segment will give you your name's meaning, it's origin, how popular that name is, and some factoids about the year you were born.
Compare-A-Face: This activity uses facial recognition to match you with which relatives and ancestors you most resemble.
Record My Story: You can create audio files of stories of your life for relatives and future generations to enjoy.
Picture My Heritage: A fun little activity where you can replace the faces of people in historical photographs with your own.
In Home Activities: There is a list of activities you and your family can do together to get to know one another's personal stories in a new and fun way.
FamilySearch emphasizes personal history with the Memories app.
It is a way to preserve the information and then view it with your phone on your mobile device.
The memories app makes it easy to show your family what the family tree looks like and gives them an opportunity to ask important questions about their family origins.
If you are collaborating with other family members to find information about your ancestors, then you can also use Family Tree as a way to share information with other people in your family as well.
Family members who have visited graves and tried to answer difficult questions can help you record the most accurate information in your family tree.
There are FamilySearch community experts you can contact 24/7 if you encounter any problems using their software or have questions about how to use the software.
When you have a question that you want answered, you can post the question on the community news forum.
There is also a Q and A section where you can find commonly asked questions regarding different aspects of the software.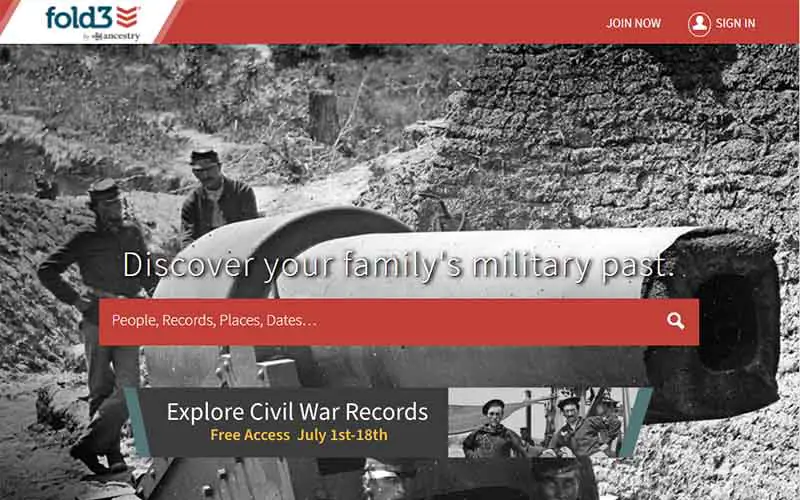 Fold3 is a genealogy software program with an expansive database on military information, including military records, stories, and documents of veterans and soldiers.
It is the best repository of military information because it takes its results from the National Archives of multiple countries such as the U.S. and U.K.
It contains many records that can be browsed by historical conflicts:
Revolutionary War
War of 1812
Mexican American and Early Indian Wars
Civil War
Spanish American War
World War I
World War II
Korean War
Vietnam War
Recent Wars
Non-military Wars
International Wars
The search engine allows you to set up a memorial page honoring your ancestors for their military careers.
You are also able to save your information to the Ancestry website by clicking on the Save to Ancestry button on the toolbar in the Viewer.
Once you click on a war that you are interested in, you can use the search engine to look up people, places, records, or dates related to one of your ancestors.
If you know one of your family members was in a specific war, then this process becomes much easier.
The more details about your ancestor's experience that you have, the quicker you will find the facts you are looking for regarding your family's military experiences and background.
Some of the information you can find in the fold3 database includes:
Pensions during a specific historical period
Service records of family members in the military
State Department records
Enlistments
Casualty lists
Veterans' gravesites
Unit history that shows what division or regiment a family member was in
You can find detailed, accurate information on a number of unique items relating the military background of your ancestors.
This software gives you a deeper look into the lives of ancestors who sacrificed and risked their lives during their years of service.
There is not any other genealogical software like this out there, so you should try using it if you come from a military family or background.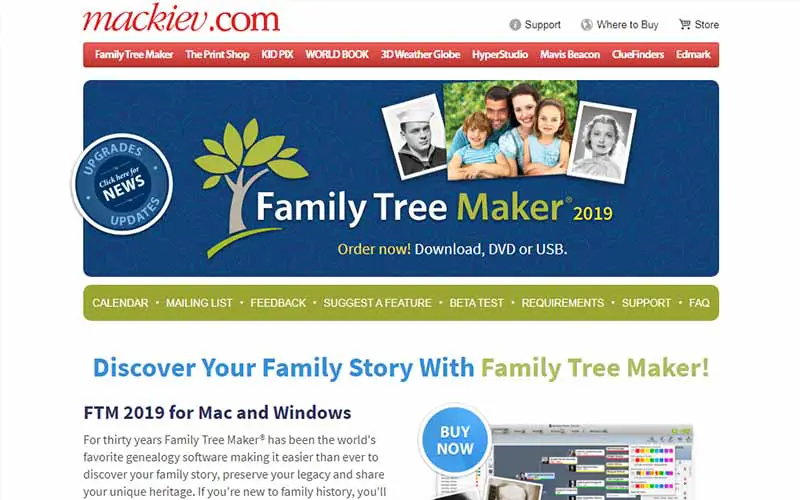 Mackiev has an excellent program called Family Tree Maker. It was created thirty years ago and is a great option for both novices and experts.
It is a paid software, but it has many excellent features. It works well with Ancestry, synchronizing with a single click.
The index will give you hints. These hints are tied to FamilySearch and Ancestry.
You are able to download an entire tree from FamilySearch to use in your FTM tree. FTM keeps a history of your changes.
If you need to make a correction, it is simple to go back to an earlier version and fix it using the changes history.
The photo editor for FTM has many excellent features.
Restore: Easy to use editing tools restore photographs that are damaged and faded.
Smart Cropping: The smart cropping tool zooms in to the subject's face in a photo in a square that will fit on the leaf on your tree.
Standardizing images: Easily make your family tree branches look neat and uniform.
You are able to create visually appealing charts and create reports to use to assist in planning your research.
You can group nuclear family units together in your report view for easier organization.
It also allows you to add important life events.
FTM allows you to add media to enhance your tree.
You can add media such as videos, photos, audio, and records
You can use these to enhance presentations or slideshows that you can share with others
There is also a variety of themed clip art and backgrounds to use with your designs
You can use maps to show where your ancestors lived and even map their journeys when they moved
Family Tree Maker allows same-sex nuclear families to be recorded on your tree.
It also includes an index of reports that give more detailed information on each individual.
These tools can make an enjoyable audio visual experience.
They can not only show the facts of your family history, but you are able to bring to life the reality of their experiences where they lived their lives.
How Do I Sync My Family Tree Maker With Ancestry?
Any time you make any changes to your family tree on your Family Tree Maker, you will need to sync that change with your Ancestry account.
You can set the sync up as either Automatic or Manual.
Automatic: When you have your sync set to automatic in the setting, it will sync every time you open and close the Family Tree Maker program. If you want it to update, simply close it and then re-open it to trigger the sync start.
Manual: Manually syncing your family tree is a little more complicated. Open the tab marked Plan on the Current Tree, click the Sync Now Button in the Tree Sync-Access Via Ancestry box.
You can review the changes on the log screen (or bypass it by checking that box), either in summary or in depth, then you can print, send as a PDF or RTF or export to a PDF or RTF.
Then you can click on the button to continue to save your changes.
Using Family Tree Maker with Ancestry
Once you sync your Family Tree Maker with Ancestry, you can start using the basic tools that Family Tree Maker provides to help you make your family tree.
Researching your ancestors is a methodical practice, and you start at the same point.
Here is a list of your typical base tools you would use.
Multi-Generational Chart: this chart is where you record each person included in your tree. Each chart is numbered, then each person in the chart, so you will be easily able to cross reference and locate each person in their specific chart.
Family Group Sheet: Each family group has all the information for each nuclear group and important information for everyone in that group. Their names, birth, marriage, and death dates and where. The gender of each child is included. Lastly, there is a space included on each sheet for your sources of that group.
Research Log: This is a total tally of the research you have already done. It will include every source checked out and what the result was. It is a good way to optimize your research and prevent duplicates.
Using Family Tree Maker with Ancestry is simple to do with these basic tools after you have synced your accounts properly.
Family Tree Maker is a user-friendly genealogy software, so it will not take long for you to learn how to use the software and start building your family tree.
RootsMagic has both a free and paid version. The free version is user friendly and has multimedia support.
You can create a very nice basic family tree. You are able to import from multiple other family trees. There's even a user group on Facebook to connect with others.
The paid version has many more features. Not only are you able to back up your data on the program, but you can back it up directly to Google Drive, Dropbox or a CD.
The features you will have access to with the paid version include:
Multiple navigational features
Descendent View, which allows you to view up to 7 generations back in your family tree
Customizable People List view
The Editable Timeline View feature, which shows you important events in your ancestors' lives
You can customize a toolbar that has the specific tools that you use. It is easy to switch views using tabs to compartmentalize your information.
RootsMaker allows you to easily drag and drop information between databases and link them.
You are able to name groups of people for quick review in reports and you can link websites to information within the reports.
There are many editing features available. There is not a limit to the amount of information you can add.
It has preset types of information for quick reference, or you can add more.
You can share events between contemporaries.
The paid version has a better search engine in place, allowing you to search by multiple criteria. You can locate people by their married names or a nickname. Searching by mtDNA is also an option.
RootsMagic Reports
The software allows for the creation of many types of reports to analyze the information you have collected.
This software not only helps you gather information but also makes sense of this information once you have it.
You can filter through the information you have by type and you can also get a list of individuals who are missing information.
You can also fact check your information through the program.
Some bonus features include the Family Reunion Planner, personal websites to publish your information on, and many detailed research options.
You can map places and create a geocode for the location.
It also allows you to clean up your work using easy-to-use tools for editing and checking information.
Family members are able to collaborate and sync their information using TreeShare on Ancestry.
You can even search and view information with your Ancestry subscription using the RootsMagic Essentials software.
It also includes an integration with Ancestry Hints, where it shows you potential matches found based on the information.
The hints will be shown as either a tab off of a profile or as leaves connected to the person they are attached to.
Ancestral Quest is another great program. It has both a free and paid version and can be used on both Windows and Mac computers.
This genealogy software that works with Ancestry has a few unique features, video tutorials, and online tips and tricks.
It also includes some special secular tools if you belong to some religious groups.
This software allows you to sync with Personal Ancestral File (PAF) databases with FamilySearch Family tree.
PAF is a specialized genealogy software that was a free version of FamilySearch software the Church of Jesus Christ of Latter-day Saints created with an older version of AQ.
Ancestral Quest also displays LDS Ordinance information through the program and on reports and allows you to pre-qualify names for submissions to the temple.
You can also update that information from the tree.
For Jewish users, it includes specialized religious events and information specific to the Jewish faith.
These include the Bar Mitzvah and Bas Mitzvah.
It also has a place for your Hebrew or Yiddish name, and your Tribe.
It also includes a Page of Testimony, which is a memorial page for Holocaust victims.
Ancestral Quest has multiple new features:
You can import and export information into and out of FamilySearch without having to use GEDCOM
It allows side-by-side comparisons between families to easily update
You can use Memories Manager to find items in the FamilySearch Memories and AQ Scrapbook
Ancestral quest is also highly compatible with Ancestry.com, so keep reading to find more about how to use these two programs together.
Using Ancestral Quest With Ancestry
Ancestral Quest will allow you to search Ancestry.com directly if you are subscribed to it.
You are able to use a General Search for broad results, or Direct Link for a more refined search.
You are also able to manually search at WorldConnect using Ancestral Quest with their link through Ancestry.com.
This search is free and will include over 500,000,000 names that have been included in the family trees in their system.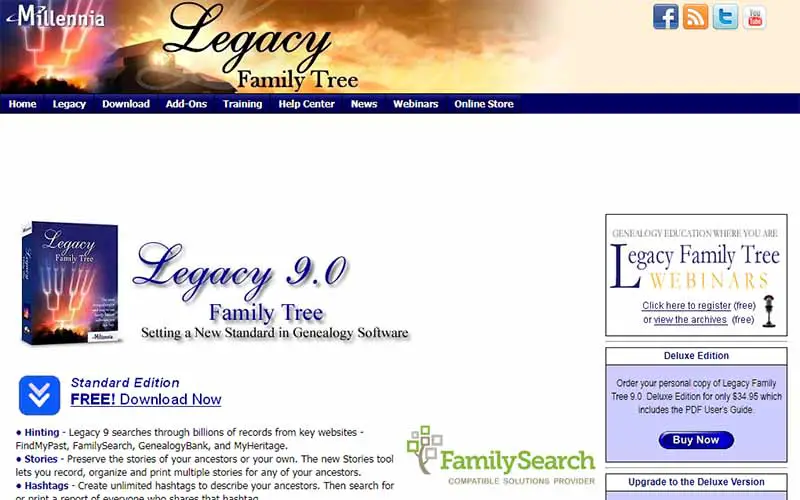 Another great genealogy software that works with Ancestry is Legacy Family Tree.
When you are looking for information for one of your ancestors, Legacy Family Tree pulls data from websites like MyHeritage, Ancestry, and many others.
This software gives you the full collection of data available for your family tree.
Some things you can do with this software include:
View family medical history trends with cause of death charts
An X-DNA color scheme which shows you how X-chromosomes have been passed down in your family over time. You can also record DNA marker test results
Find a grave feature allows you to record grave sites of family members
The Add a Story feature gives you the opportunity to write about key events that took place in your ancestors' lives
Legacy Family Tree also offer excellent webinars and trainings on their site
As previously stated, Legacy Family Tree works with Ancestry and other well-known websites to provide you with a comprehensive overview of your family history.
There are a variety of charts, tables, and tools you can use to record data that you find when you are doing genealogical research.
On Ancestry.com, you can find a grave index collection that records the date of birth and date of death for deceased ancestors.
Find A Grave is a grave searching software you can use in combination with Ancestry to find and record:
Cemetery location
Photos of the cemetery
Memorial information
When searching for the grave of one of your ancestors, the information you can provide to the search engine to help find them includes:
First name
Middle name
Last name
Year born
Year died
Cemetery location
As long as you can provide a few of these items when searching for a grave, you can  find the gravesite you are looking for without any issues.
Once you do find the grave of the ancestor you are looking for, you can leave a message to remember them by. .
This genealogy software allows you to make virtual memorials for deceased family members or other people whom you wish to commemorate with a memorial.
If you want images to remember someone by, then you also have the option to upload photos with the virtual memorial as well.
Famous grave sites are easily accessible with this software, so if you are traveling and happen to be near one you can make a quick trip to see grave sites like George Washington's in Mount Vernon, Virginia.
There are also fame ratings that you can leave that show you how famous certain historical figures are perceived to be by the general public.
There are also popular graves and newly added graves you can easily find using this software.
Many of the most popular graves consist of famous, historical figures with their own virtual memorial.
You can find popular graves for people like Walt Disney, who devoted much of his life to making incredible motion pictures which are still here today.
Conclusion
Most genealogy software has similar tools and processes. Deciding which genealogy program fits your needs is dependent on what extra features you prefer.
Most programs will work well with the Ancestry search engine to make creating your family tree simple and easy.
Genealogical software specializes in a variety of different areas when it comes to finding out about your ancestry, conducting genealogical research, and constructing family trees.
Using any one of these software programs with Ancestry will equip you with all the tools you need to find the information you are looking for and record all the pieces of history your ancestors have left behind.
Read next: These are the 6 Most Accurate Ancestry Sites