Think of FamilyTree DNA as a genealogy site.
You use your saliva to create an account linked up with the results from other people who have taken the test.
The more people link their accounts, the clearer and easier it is to trace family history back through time.
FamilyTreeDNA is an international company that offers at-home genetic testing kits for various purposes, such as tracing ancestral lines and finding relatives who have tested with other companies. 
Read on to discover how FamilyTreeDNA works for you and what results you can expect from their different assessments.
Additionally, we will discuss how long it will take to get your results back and what they may reveal to you.
The process for getting started with FamilyTreeDNA will be covered and the many options you have for DNA testing.
What is Family Tree DNA?
FamilyTreeDNA has over 950 thousand members in its database.
The site can be used for research purposes, especially if you've already done some studying on your family tree but are unsure where those branches go or how specific they are.
It lets users upload information like:
Photos
Video clips
Stories
You need a membership to view this content, so Family Tree DNA has created an option for you to have two memberships, one of which can be gifted.
How Does FamilyTreeDNA Work?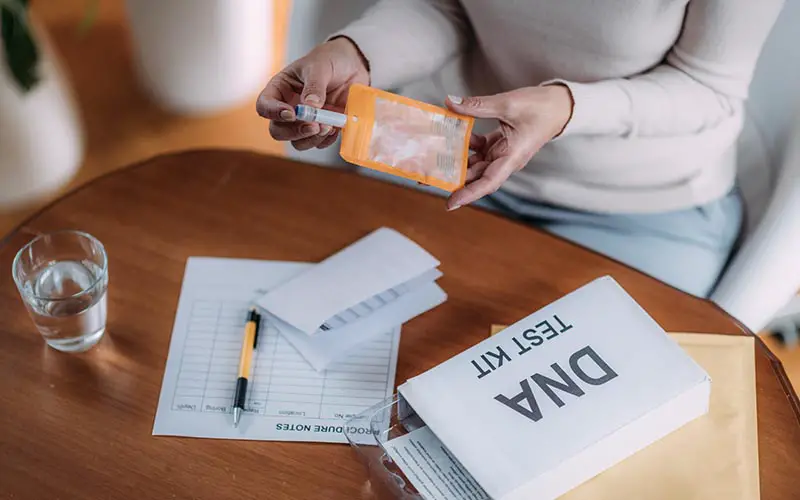 FamilyTreeDNA works by sending you a kit specifically for your family tree.
It contains everything needed for the test, including an envelope for returning the swab once it has been tested. 
FamilyTreeDNA Tests with One In-House Lab
At FamilyTreeDNA, they believe in more than just good science.
Their laboratory is CLIA-certified and CAP-accredited (the highest levels of accreditation possible), ensuring that their standards are the highest in the industry and providing accurate results for each customer.
With Illumina's HumanOmniExpress-24 chip and NovaSeq Sequencing System, they can deliver greater genotyping accuracy and process a larger number of samples than any other company on the market.
All you have to do is send in the included tube with saliva, fill out some personal information on who's being sampled, and then wait 4-8 weeks until they get back to you with all of their findings, including ethnicity or how close two people might be related.
You will receive an email when they get back with their findings which could include how close two people might be related or anything else interesting about the results of your genetic test.
There's no need for any previous knowledge in genetics, so anyone can try this service without worry!
How Long Does It Take to Get FamilyTreeDNA Results?
Once your DNA sample is received in the lab, you will be notified via email, and it can take from 5-7 business days for orders sent to Canada and 3-5 weeks for international orders.
Processing times vary depending upon which tests are ordered. Result processing times:
Family Finder results can take 2-4 weeks
mtDNA typically takes 6-8 weeks.
Y-DNA results typically take 3-6 weeks.
DNA testing through FamilyTreeDNA could be what you need to ensure your family tree is as extensive and robust as possible.
You can send your saliva sample back to the lab by mailing it or shipping it via:
UPS
DHL
FedEx Express
USPS
The kit also includes two return labels, so you don't have to worry about running out or misplacing one.
What Happens if I Don't Have a Close Match?
If the user does not find a close enough match with someone on their list of family members, they will be able to upgrade and work on finding more relatives or neighbors using Family Tree DNA's new "MyDNA" feature.
This allows users to upload raw DNA data files so that others can compare who matches up with each other then go back through time and look at branches together.
This will allow them to make family connections and help them understand where they come from as well as what geographic regions they may be descended from.
What Does DNA Testing Show?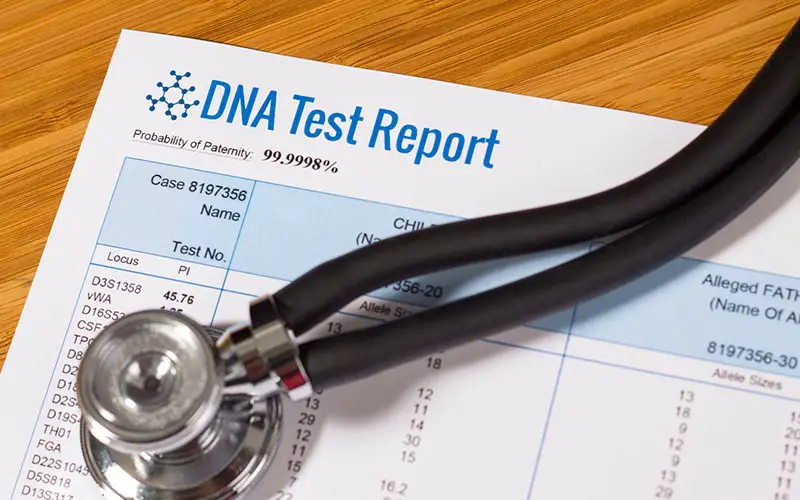 When someone is tested with FamilyTreeDNA, they can learn information such as whether or not a person has any close relatives in other countries like Finland, Ireland or Italy.
They might also know what percentage Scandinavian they are if one grandparent was Swedish but the next wasn't.
The results will differ depending on how closely related two people are and this service makes all assumptions based on science instead of relying on the family stories that people remember and can be easily distorted.
The results of a DNA test will vary depending on the type of ethnicity someone is testing for, their level of relatedness to another person, or if they're simply curious about who contributed what genes.
It's possible to show where your ancestors are from by looking at certain markers in two chromosomes called chromosome numbers seven and twelve which would reveal common ancestry with other groups around the world such as Asia or Europe.
The information that you'll learn after taking this test could potentially change lives!
Benefits of DNA Testing by FamilyTreeDNA
What are some other benefits of genetic testing?
There are additional services such as Ancestry Matching where if there's someone else whose ethnicity matches up closely with yours, you'll be able to see their family tree and where they're from.
It's not just about finding out ethnicity either.
There are people who have been adopted or taken away at birth so it could help them find the answers that many of us take for granted.
Family tree DNA works by collecting your DNA from a cheek swab and then analyzing it to find out what ethnicity you are.
Some benefits of using FamilyTreeDNA testing include:
Knowing the ethnic groups you belong to.
Detecting genetic ailments or predispositions and eliminating risks.
Gaining more insight on family history by uncovering long-lost relatives who can fill in gaps of information.
Finding more family members and relatives to connect with or discover new ancestors may have been previously unknown.
Discovering the origins of your surname

by tracing back how it was passed down through generations.

Uncovering past medical history to detect any genetic ailments or predispositions you might possess for future health issues.
Finding out distant ancestry could lead us to our ancestral homeland and discover long-lost relatives who can fill in information gaps on your family lineage.
How Do I Start with FamilyTreeDNA?
First, you'll need to purchase a kit through the website, which starts at $79 plus any additional required shipping costs.
If you are under 18-years old, your parent or guardian must agree with the terms of our consent form for minors which can be found here.
Ordering a kit online takes just minutes! Your order includes:
Swabs to collect saliva from the inside of your mouth (no blood or needles!).
A return shipping label with prepaid postage

, so you don't have to worry about paying for shipping when it arrives back.

Receive reports on your genetic lineage 4-8 weeks after ordering.
Free software from FamilyTreeDNA can be downloaded on your computer.
This is used to upload raw data from your test into their system, and then it will give you access to matches in their database who are also using FTDNA kits.
It is not necessary but downloading this free program may help make things easier!
Essential Things to Know Before Taking a DNA Test
You do not need a family tree to take this test, but if you want to find out ethnicity from both parents and grandparents, this would be beneficial!
When processing raw data, there will still be matches even without having any family trees uploaded.
However, more people who have already built their family tree will show up on your match list, so having one may make it easier when looking at those results.
The free software program mentioned earlier has an extensive database containing over three million genetic profiles.
You'll want to make sure that you have everything you need before getting started, so don't forget about these things!
Required items for using FamilyTreeDNA services:
A picture ID such as driver's license/passport
Consent form for minors (if applicable)
Credit Card or PayPal account to pay with the service fee of $79 per kit and shipping cost if needed.
Once you have all of this information handy, the next step is to choose the type of assessment you want to complete.
Kits Offered By FamilyTreeDNA
FamilyTreeDNA offers four different primary assessments.
Some encompass more information than others and are more expensive.
Here are some of the main kits offered by FamilyTreeDNA.
Kits from FamilyTreeDNA provides genetic information about your deep ancestry going back to 500 years ago with over 700 markers on 22 different chromosomes.
In comparison, AncestryDNA only covers roughly 150 markers across 13 of these same chromosomes for a cost of $79.
The Paternal Ancestry Kit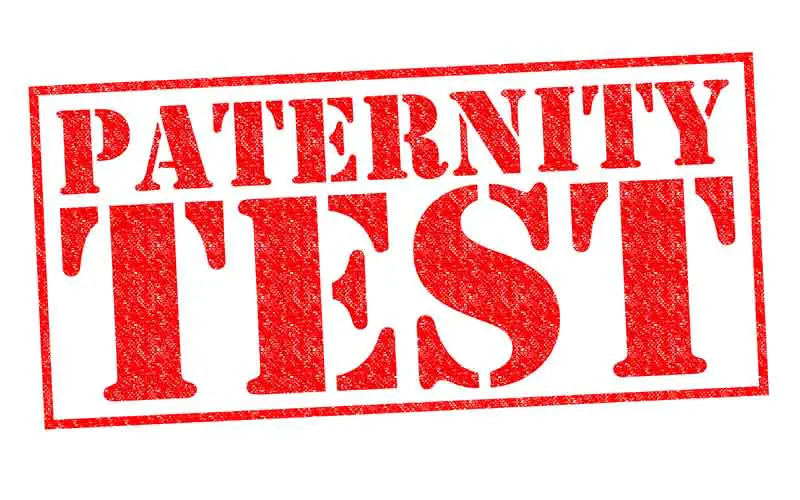 The Paternal Ancestry Kit is used to explore the heritage of your paternal line.
This kit is male-specific and will cost you $119.99.
Some of the specifics of the Paternal Ancestry Kit include:
Male-Specific Test.
Connect with your paternal-line relatives in their Y-DNA database.
Follow the migration paths of your male ancestors.
Trace your surname to its roots and build your family tree
The Paternal Ancestry Kit can offer you some essential information in finding the specifics of your family tree.
Still, FamilyTreeDNA provides a few more kits that encompass other lines of your DNA.
The Family Ancestry Kit
The Family Ancestry Kit by FamilyTreeDNA gives you a more comprehensive view of your genetic makeup and family tree.
This kit will cost you $79.99 and is the most common kit purchased.
Some of the specifics of The Family Ancestry Kit include:
Male & Female Test.
60+ New possible population groups.
Get a refined view of your ancestry and see how much they contribute to your makeup.
Connect with autosomal DNA relatives within the last five generations.
Learn if you have connections with ancient groups in Europe.
Compare matching blocks of DNA (markers) with them.
The Family Ancestry Kit is one of the most popular from FamilyTreeDNA, and for a good reason.
This kit gives you a detailed view of your ancestry as far back as five generations.
The Maternal Ancestry Kit
The Maternal Ancestry Kit gives you information on your maternal DNA and will cost you $159.99.
More specifics of this kit include:
Male & Female Test.
Explore your heritage on your maternal line and connect with relatives in the mtDNA database.
You can also track the migration paths of your female ancestors and receive a personalized mtDNA Full Sequence video.
To use this product, you must be 18 years of age or older and be a U.S. resident.
Not available for residents of New York, California, Pennsylvania, or Maryland.
The Maternal Ancestry Kit is an all-encompassing kit for the maternal line of your ancestry.
This kit is one of the more popular sites as it is open to both males and females.
Tovana Health Report and Family Finder
The Tovana Health Report and Family Finder option from FamilyTreeDNA is the most thorough option offered and will cost you $899.
This test includes physician oversight by an independent healthcare provider.
A questionnaire about your health history is required before taking the test when activating your Tovana account.
Your answers will be confidentially reviewed by an InTelLabs healthcare provider, meaning you will have all the advantages of traditional medical review without any concern over confidentiality and privacy violations.
Unmatched by any other report, you will gain knowledge to take a proactive approach to live a longer and healthier life.
Learn how genetics can affect your health, nutrition, and fitness with more information than could ever be found before now!
The Tovana Health Report offers various assessments.
Tovana Health Report DNA Screening
Traces the maternal and paternal bloodlines to reveal inherited genetic conditions.
Screens for variants associated with 356+ severe or debilitating diseases.
Gain insights into your carrier status and risk of diseases associated with various organ systems.
Screens for variants associated with diseases in all major organs.
Disease Risk Assessment

In-depth screening for disease variants can also assess disease risk, including diseases specific to your medical history and populations.
Assess your cancer predispositions with Cancer Predisposition.
Screen for variants associated with a predisposition to 13+ types of cancer, including monogenic risks and polygenic risks.
Reports are based on the latter, which means that updates won't cost you any more than you initially signed up for.
Fitness and Nutrition Traits

Gain insights into how your genotype in specific genes affects your fitness and physical activity.
This includes exercise motivation and behavior, your body's ability to recover from exercise and whether you are more prone to injury, what type of exercise/training is ideal for your body, and your predisposition to various physiological responses to exercise.
Evaluates nine fitness traits, including the following:
Body's Ability to Recover From Activity
Predisposition Toward Various Physiological Responses to Activity
Food and Nutritional Preferences

Discover the best foods for your body based on your genetic makeup for eight genomics traits. Evaluates each gene variant associated with vitamins, minerals, and food sensitivities.
Find out about the aspects of your DNA that are related to typical traits and learn what those will tell you about yourself.
If you have already submitted your DNA and purchased a kit, there is no need to purchase another one.
They will use the stored sample from your old DNA test by default for any additional tests that you take.
Some Frequently Asked Questions
As with any service, there are always some frequently asked questions.
FamilyTreeDNA has made it easy to get all of the answers you need with their thorough and transparent explanations of all of their policies and procedures
How Does FamilyTreeDNA Protect Your Privacy?
FamilyTreeDNA prioritizes your privacy, so you dictate how your genetic information is used and shared with others.
They store DNA samples, test results, and other personal data securely using industry-standard security practices.
Additionally, they store genetic data without names or additional common identifying information.
When you submit your DNA sample to FamilyTreeDNA, they keep your identity completely confidential.
For more information on how FamilyTreeDNA protects your privacy and works with law enforcement, review their Privacy Statement.
FamilyTreeDNA uses your personal information to provide, personalize, analyze and improve their services.
These acts may include, among other items not specially mention, using your info consistent with the different commitments in this Privacy Statement to:
Open a new account, process payments for test kits, and send you messages about the services received.
Conduct research and development, which may include performing data analysis or survey answers to improve product services.
They use your data to understand their customers better. This may entail conducting research, analyzing communications, and more specific things like watching how people use the services.
They might use this information to create new features

for you and other service users, but they will never sell your personal information without getting your permission first!
FamilyTreeDNA uses your information to better carry out online marketing campaigns and targeted advertising, including utilizing third-party ads and measuring their marketing performance.
Do I Need to Know My Ethnicity Before Joining FamilyTreeDNA?
You do not need to know your ethnic background for FamilyTreeDNA to provide you with an accurate breakdown of where your family lines come from.
When they test and analyze the DNA sample submitted by a new customer, scientists identify any regions that are African-specific or European-specific (or Asian/Native American specific) based on research data about those areas.
Once these regional percentages are identified, they're combined with other genetic markers and used as a basis for identifying matches between customers who've already tested their DNA at AncestryDNA or 23andMe and uploaded into their database.
For example, suppose someone has inherited 50% of their DNA from Africa and 50% of their DNA from Europe.
In that case, they will find that the African-specific regions in their AncestryDNA profile are matched with customers who have also inherited a significant amount of African lineage.
Roughly one-third of our genetic markers come from each area!
If you're not sure where your family lines come from, or if there's an ethnic group in which you've taken an interest but don't know much about them, then Family Tree DNA offers a unique service to help answer these questions for you.
They use autosomal testing technology to examine all 22 pairs of chromosomes (more than 11 million individual data points) that make up our ancestry.
While many people may think this is too invasive or even unnecessary information, it is a tool for self-knowledge and discovery.
As they look through the results, if you like what you see, then there are products available on their website that can help with identifying your ethnic heritage or telling you where in the world certain family lines may have originated from.
It's an opportunity to dig deeper into who you are!
These DNA tests show us more than just which cultures people come from.
They also give people insights into their physical health risks by pinpointing genetic markers linked to various medical conditions such as:
Diabetes
Alzheimer's disease
Heart attack risk
Breast cancer susceptibility
Many others
Besides these, letting your ancestors know that you remember them is important–and now even better.
How Is My DNA Processed and Stored?
Sample collection kits include one vial per cheek that you send by mail to their DNA lab—each vial has a barcode on it that links it to your order.
Once they receive your sample and scan the barcode, an email notification is sent with instructions on setting up your account.
They extract DNA from one of your samples at home and store it in their federally compliant CAP/CLIA certified lab, where it's kept at -20 C until they process for ordered tests.
Every DNA kit will come with two vials.
The first is used for the test(s) ordered from your kit and then sent back to the company's labs, as well as creating a genetic profile of you.
The second vial gets stored in a secured room at room temperature up to 25 years and can be used if they need additional DNA or there's not enough available.
Can I Give a FamilyTreeDNA Kit as a Gift?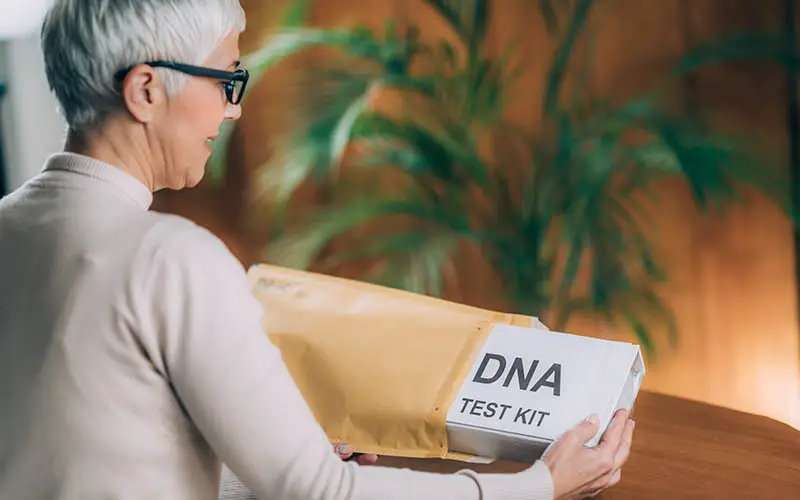 To ship the DNA kit to someone else, simply enter their shipping address at checkout.
The DNA kit activation happens when you buy it; they will send relevant email notifications right after completing the transaction.
If your DNA kit was given as a gift and you provided your email at the time of purchase, be sure to send that information to the DNA provider once they receive it.
Then, if you've sent them changed contact information in preparation for receiving your kit, ask them to change the owner's email address on their account with the contact info you provide.
How Does MyFamilyDNA Compare to Other Ancestry Sites?
FamilyTreeDNA is a genealogy website that lets you discover your deep ancestry and get in touch with relatives.
You can use the Family Tree DNA kit to upload up to 11 family members, plus yourself, to analyze 67 regions across 800 genomes.
It will then allow you to see how these different lines connect using their innovative chromosome browser feature.
It provides ethnicity estimates, ancestral origins, Neanderthal heritage, etc.
Ancestry tests provide similar data but only for living people who have taken the test themselves (rather than their descendants)
Compared to other ancestry sites, MyFamilyDNA has a website that is simpler to use.
The design and layout are modern, clean with an attractive font size that makes it easy to read the information on the screen.
It also has a range of other features, including DNA Circles, where you can find relatives in your tree by analyzing their DNA matches.
This tool does not charge any additional fees for this service either, which is especially useful for those who want to keep track of what family members they have found so far- one less thing to worry about when building their family tree!
If you would like help finding new ancestors or filling out missing areas of your family history, then MyFamilyDNA may be worth considering instead of other ancestry tests.
Conclusion
The FamilyTreeDNA database is a great way to find out more about your family history.
You can upload photos, video clips, or other documents that may be of use in the future with this service.
Once your DNA sample is received in the lab, you will be notified via email, and it can take up to 7 business days for orders sent to Canada and US addresses.
FamilyTreeDNA is dedicated to protecting your privacy and identity.
They will never use your information for anything other than what is stated in their privacy policy.
All of the guidelines from FamilyTreeDNA are listed thoroughly on their website.
Related guides: