Genealogy is a study that can take years to master, and one of the best ways to learn about this niche field of study is to do online research.
Luckily, there are dozens of genealogy courses and webinars available on any given month that genealogical researchers can take advantage of to increase their general knowledge of the field.
Best Online Genealogy Courses and Webinars for Beginners
Below you'll find a list of the 12 best sources for genealogy webinars and courses available.
You'll also read a brief overview concerning some of the best genealogical tools and websites you can find.
Read on to learn more about genealogical webinars and how they can benefit your future research.
1. FamilySearch Webinars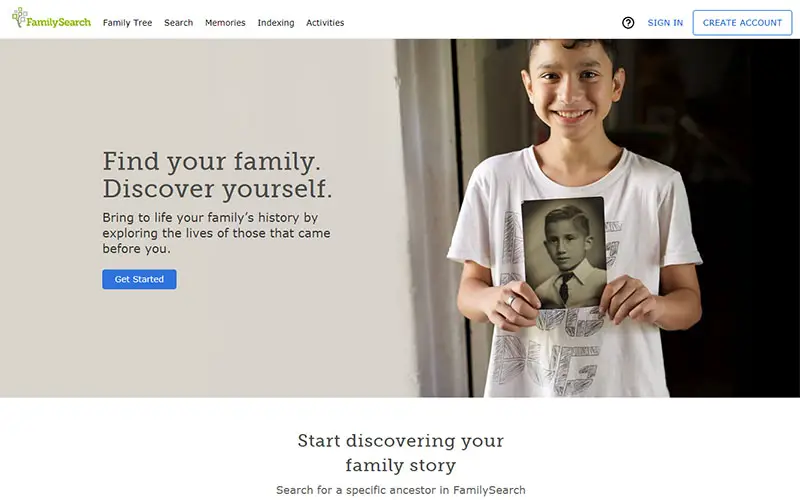 The FamilySearch Family Tree website is the largest family tree website on the Internet, making it a useful genealogical database for anyone who is just getting into the hobby of genealogy.
This website offers information on over 1.2 billion ancestors from humans worldwide.
Along with their extensive family tree database, FamilySearch also offers a variety of free webinars and courses throughout the year.
Many of these webinars are geared towards helping amateur genealogists use their Family Tree software efficiently.
Here are some of the best starter webinars in 2022 on offer from FamilySearch for those who are just getting started on their genealogy journey:
Attaching Sources to FamilySearch Family Tree (June 15)
Merging Duplicate Records in FamilySearch Family Tree (June 22)
Correcting Relationships in FamilySearch Family Tree (June 29)
Using the FamilySearch Catalog (July 5)
Adding Memories to the FamilySearch Family Tree (July 6)
Using the FamilySearch Mobile Apps (July 13)
Navigate, Add, Edit, Standardize, and Print in FamilySearch Family Tree
(August 10)
Tips and Tricks for Finding Elusive Records (August 24)
These are only a few of the webinars that are offered at FamilySearch for free over the summer of 2022.
If you're using FamilySearch as one of your genealogical databases (they are a top pick for software that works with Ancestry), taking at least a few of these webinars can help you learn to use the tools at hand more effectively.
2. RootsTech Connect 2022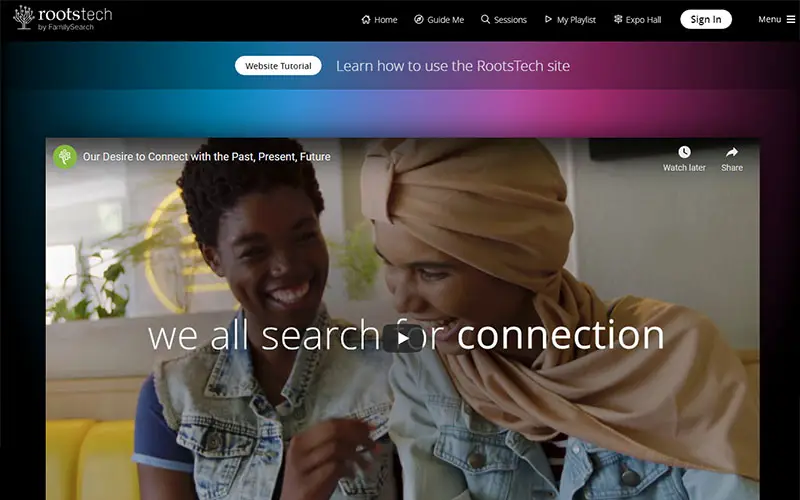 RootsTech Connect is technically still a part of the FamilySearch genealogical system, but this branch of FamilySearch has its own website.
While the live conference only runs from 3-5 March 2022, that doesn't mean that the classes and webinars over at RootsTech aren't still a great resource for genealogists.
These classes and webinars are available throughout the year even if the conference itself is inactive.
The Rootstech website features over 1,500 classes and webinars over nine different categories:
Webinars By Language: Since RootsTech helps genealogists from all over the world, not all of the genealogical sessions and webinars are presented in the same language. If you'd like to narrow your search down by the language spoken, this filter can help you narrow your session search.
Keynote Speakers: Even if you couldn't make the live RootsTech Connect conference, these sessions allow you to take in the wisdom and varied experiences of the keynote speakers featured at the RootsTech conference.
Connecting with Family: Many people think of genealogy as poring over old records, but genealogy also involves getting involved in recording the history of your currently living relatives.
Finding Ancestors: These classes focus on helping you learn how to find the different resources you can use to build a genealogical record.
DNA: DNA-based records and studies have advanced the field of genealogy unlike any other technology, and these webinar classes are designed to help teach you how to take advantage of genetic data in your genealogical records.
Places, Records, and Research: This webinar group is dedicated to helping you learn how to pore through the records of the past to find data on your ancestors. From scouring military records to developing general research skills, these classes can make you a stronger genealogist.
Memories: These webinars teach you how to collect and archive the stories, photographs, and videos that will form a part of your own living genealogical record.
Traditions and Heritage: Taking a broader look at culture beyond family genealogy, these classes explore how the traditions of each culture make them sociologically unique. From cooking to music, there are plenty of aspects of culture to explore.
Websites, Tools, and Apps: These webinars focus more on the technical tools used in collecting genealogical data. These tools include things like DNA cluster charts, DNA process trees, and any technology used in creating and archiving a genealogical history.
Between these nine categories, RootsTech offers a class or webinar on practically any genealogical subject you can think of.
3. Legacy Family Tree Webinars
Legacy Family Tree offers not only live session webinars for incoming genealogical classes, but it now features a webinar library where all of their past sessions are archived.
This gives visitors access to 1,430 different webinars on genealogy.
Legacy Family Tree offers classes on hundreds of different subjects.
Here are just a few examples of the many webinars available:
Surname Slip-ups: Baffling Beginnings
Begotten by Fornication: Illegitimacy Records in England and Wales
Townlands, Parishes, and Baronies: Understanding the Land Administrative Divisions
in Ireland
The Paternal Ten: Searching for Missing Heirs
Turning Raw Information into Evidence: Tips for Drawing and Explaining Conclusions
There are dozens of other courses available through Legacy Family Tree.
If you're trying to give yourself a crash course on genealogical education, this website is a good place to start.
4. American Ancestors
American Ancestors is a genealogical website geared towards North American genealogists, but it has plenty to offer.
Along with a genealogical database of over 1.4 billion entries to explore, American Ancestors also offers regular live question-and-answer sessions with professional genealogists.
Here are some of the courses available through American Ancestors:
The True Cost of Colonization: American History from an Indigenous Perspective
Researching the Deep South
Building Your Genealogical Skills
Researching Acadian Ancestors
The College of Arms in the 18th Century
In addition to offering online webinars and courses, American Ancestors also regularly offers research tours and other live events throughout the country.
American Ancestors is a very valuable source of data and learning tools, especially for genealogists who are focusing the bulk of their research in America.
Related: Best Genealogy Software That Works With Ancestry: 9 Solid Options
5. National Institute for Genealogical Studies (University of Toronto)
The National Institute for Genealogical Studies at the University of Toronto has dozens of online courses covering everything from U.S. court and census records to planning a genealogical research tour.
Amateur genealogists can either sign up for individual genealogy courses to expand their knowledge in a specific area, or they can register for multiple classes in a formalized educational path.
Along with classes designed to teach genealogists how to go through specific types of genealogical records, such as Australian prison records, here are some of the more general classes on genealogy that are available through the Institute:
Demystifying Culture and Folklore
Connecting Family: Online and Virtually
Forensic Genealogy
Genealogy: Ethical Guidelines and Standards
Heraldry: Understanding the Art and Science
If you're looking for a professional level education in genealogy, you can do much worse than enrolling at the National Institute for Genealogical Studies.
Regardless of where your ancestors are from, you can find plenty of useful data in their archives.
6. The National Genealogical Society Family History Skills Course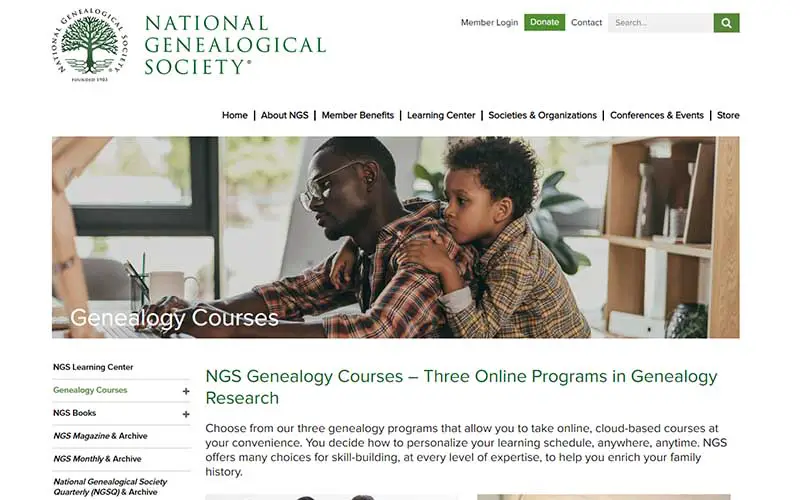 While the National Genealogical Society does require membership to get the full benefit of their webinars and courses, this foundation is a great source for classes that focus on deepening your understanding of genealogical research.
The National Genealogical Society offers several tiers of genealogical coursework, but becoming a member gives you access to the Family History Skills Course, one of the best genealogy courses for beginners.
This is a perfect jumping-off point for any amateur genealogist to get started in learning how to organize and research genealogical data.
By taking the six-week Family History Skills course, genealogists will learn the following:
How to identify common genealogical terminology
How to identify and interpret genealogical relationships
The Genealogical Proof Standard (GPS)
How to accurately record dates, names, and sources in genealogical data
How to identify and use the most commonly-used charts and forms in genealogy, such as the Family Group tree or the Pedigree chart
Along with the Family History Skills course, the National Genealogical Society also offers American Genealogical Studies (AGS) courses and courses in Continuing Genealogical Studies (CGS).
American genealogical studies focus on analyzing genealogical records in the Americas, while continuing genealogical studies teaches more advanced techniques like interpreting DNA data, transcribing documents, reading old handwriting, and using federal land records.
7. Brigham Young University Independent Study
Brigham Young University has one of the strongest genealogical studies departments in North America, and this is reflected in their online course offerings.
Through their Independent Study branch, scholars working with BYU can take a free course called The Family Historian's Craft (HISTORY 212).
This online course covers the following genealogical concepts:
The use of genealogical technology such as DNA and online databases for compiling genealogical data
Introduction to censuses and other official sources of genealogical information
Determining genealogical proof and how genealogical proof is defined
Thanks to the online nature of the coursework in this independent study, genealogists from all over the world can take advantage of the archived online resources that BYU makes available to family historians globally.
This university department also offers the opportunity to develop mentor-based relationships with more experienced genealogists to further your studies.
8. Ancestry.com Learning Center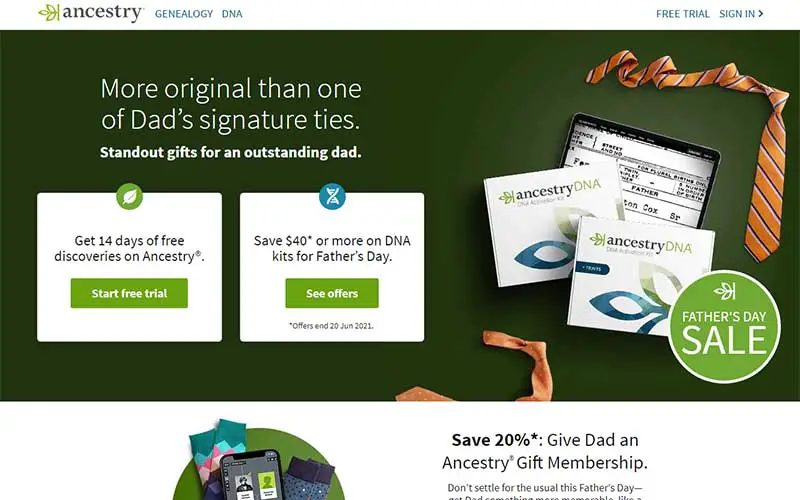 Ancestry.com is one of the world's most popular genealogical archives, and for budding genealogists it also offers one of the more comprehensive learning centers for genealogy.
This archive of webinars and courses offers personalized advice on how to proceed as an amateur genealogist that is narrowed down based on the following criteria:
Grandparents' birth dates and names
Where your family's history and information are archived
Where your family's photographs are archived
Whether you know how to search historical records or not
Whether any of your ancestors emigrated from Germany
Whether you've been contacted by other genealogists
How you share your genealogical data
Along with general advice pointing you in a direction when you first begin your research, Ancestry.com also offers several online videos that can help teach you specific genealogical concepts to improve your overall knowledge of the field.
Here are a few of the free videos available if you're an Ancestry.com member:
Military Records on Ancestry.com
Making a Breakthrough in your African American Research
Interviewing Family: Tips and Techniques
Genetic Genealogy Made Easy
Finding Your Irish Ancestors in America and Ireland
Like many genealogical databases, the best data available on Ancestry.com is only available to those who purchase a subscription to the service.
But if you're willing to pay for monthly access, Ancestry.com is considered one of the most comprehensive genealogical databases online.
9. UK National Archives Family History
If you're trying to track genealogical records in the United Kingdom, the UK National Archives is one of the more comprehensive places you can start.
This archive holds millions of historical records that were kept by the governments of the United Kingdom over the past several hundred years.
While the UK National Archives doesn't offer access to birth, marriage, and death certificates, it offers resources on how to more easily find these genealogical records.
Along with their resource database, the UK National Archives also online research guides available to help genealogists with projects involving the following subjects:
Family histories
World War I
World War II
Military and maritime records
Social and cultural history
Criminal, court, and prison systems
Political and economic history
Foreign and colonial history
Map interpretation and land records
Medieval and early modern history
Current legal records
While the UK National Archives doesn't offer official coursework or webinars for genealogy, the research guides it offers in the list above make it one of the most cohesive archives available for genealogical study.
10. RootsMOOC – Intro to Genealogy and Family History Research
RootsMOOC is a free online introductory course in the field of genealogy.
This friendly and casual introduction to genealogical research is the perfect icebreaker for any novice genealogist who is just getting their feet wet when it comes to genealogical research.
This course teaches the following basics in genealogy:
How to use some of the most popular tools and technologies involved in genealogical research, such as online records archives and DNA databases
How to complete an ancestor chart
How to effectively interview family members to create contemporary genealogical records and a family archive
How to share genealogical research progress with other genealogists
While this course doesn't go into the deeper specifics of different genealogical research avenues such as African American genealogy or Irish military records, it does give new researchers a basic foundation in how to start their own genealogical records.
11. MyHeritage Knowledge Base
MyHeritage is a large genealogical archive that features both online webinars and genealogical articles as a part of their comprehensive database.
Both of these knowledge pools are great resources for genealogists to bolster their family studies.
Many of the courses, articles, and webinars offered by MyHeritage are specifically geared towards helping genealogists use the MyHeritage database to its fullest effectiveness in their research.
As a result, there are few generalized courses at MyHeritage that address genealogy as a concept.
However, the courses that MyHeritage offers for learning how to use their archives make the MyHeritage database a much more effective tool if it's one of the ones you're subscribed to in your genealogical research.
Here are just a few of the online genealogy webinars available through MyHeritage:
Tracing Your Ancestors Through the MyHeritage Mobile App
Ask the Expert – Genetic Groups
Research Latin American Genealogical Resources on the Internet
Ask the Expert – How to Manage Your Raw DNA Data from MyHeritage
Advanced DNA Features on MyHeritage
While the webinars and articles at MyHeritage are pretty narrowly focused on the MyHeritage database rather than general genealogical research, they're a useful resource for anyone who plans to use MyHeritage as one of their keystone research tools.
12. Udemy Genealogy Coursework
Udemy is an online school that offers courses in a huge variety of different topics, not just genealogy.
However, this online university offers some of the best digital coursework in the subjects that it covers, and genealogy is no exception.
Udemy offers eighteen different results for genealogical courses that can be taken online.
Here are just a few of the classes they have on offer:
The Organized Genealogist
Introduction to Family History Research
Genealogy Photo Editing, Care and Repair
The Complete Guide to Immigration Genealogy
UK Genealogy: Researching Wills and Probate
The advantage of taking Udemy coursework as a genealogist is that each of these comprehensive courses costs less than twenty dollars to take and can be taken as many times as you want after it's been purchased.
The course also comes with a thirty-day money-back guarantee, so if you try the course and don't get anything out of it, you're free to return it.
Customize Your Genealogical Education
There are thousands of digital resources available for genealogy.
Even if you don't find specific coursework that you want to take, there are still plenty of archives, articles, and webinars available for you to throw together your own syllabus.
Using these tools, you can give yourself an education in genealogy that is just as thorough as you want it to be.
Read next: How To Start A Genealogy Business: 12 Steps for Success