Learning about your genealogy and ancestry is a fun experience.
There is a growing trend to use online sites to learn more about your family's background and heritage.
Knowing your heritage can provide a sense of belonging and inform you about different health problems or illnesses to look out for.
Many of the sites available have different types of information.
Depending on your background and what type of information you are looking for, you should be selective in choosing the right resource.
Read on to find out about the different sites and how to choose what you are looking for.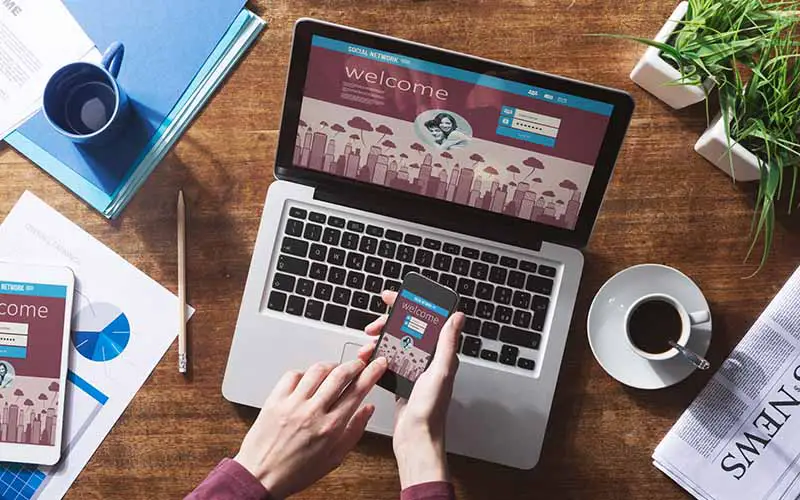 The 6 Most Accurate Ancestry Sites in 2023
Although there are tons of competitors, Ancestry.com and FamilySearch are two of the most successful and accurate genealogy websites.
Each one has strengths and weaknesses, and it is helpful to know what you are looking for before you commit to a use or subscription with either one.
There are other accurate ancestry sites,  such as Archives, MyHeritage, FindMyPast, and LegacyTree.
If you know what you are looking for, are willing to spend, and hoping to receive from each program, it is easier to choose between the many options.
There are many ancestry websites out there that can provide you with accurate information about your ancestry.
When you are determining what type of search to do, it is important to consider some key questions to determine whether the database you use can meet your needs:
What type of research are you looking for?
Are you planning to make recurring searches?
Will a professional be helpful to answer your questions?
Some records are focused on genealogy, but others have more information based around the history of family members.
If you are using one of these sites to learn who your relatives are, you are more likely to benefit from a site that focuses on genealogy.
However, a lot of people are interested in the history of family members.
Especially families who have moved from different locations or lost touch with relatives may be less familiar with the history of family members.
Learning about this can create a sense of familiarity and closeness with remaining family members.
It can be liberating to learn about your history.
A lot of genealogy and historical record archive sites have subscriptions that you can purchase instead of a onetime fee.
Sometimes you are able to get a free trial or partial subscription so if you only have a quick use this can be a significant factor to consider when looking at your budget.
Some sites are focused on enabling you to answer professional questions yourself, but others are for you to find professionals to help you with an in-depth search.
While it is great to be able to do research on your own if you have the time, sometimes the research can require intense work, and it is best to locate a genealogy expert.
1. Ancestry.com
Ancestry.com is a famous genealogy site that has been around since 1997.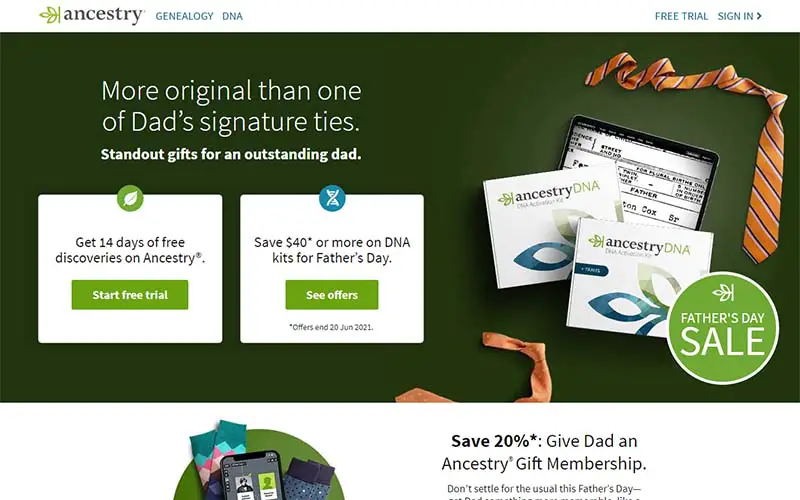 They offer several types of information:
Genealogical resources
Historical resources
Family trees
There are different plants you can purchase with ancestry.com so you can tailor your purchase to whichever of these is appropriate.
The genealogical resources are for tracing lineage. According to Ancestry.com, you can also find information related to women's suffrage, surname meanings, and more.
If you are curious about who your ancestors are, this could be a good fit. Genealogy can even answer questions you may have about what they looked like.
Historical records are used to tell the story of who a person is or was. They are built from professional records such as if they were even enrolled in the military, what their birth certificate says about them, and information that would have been recorded in the census.
Censuses have historically included questions about age, rage, and gender. These records are generally highly accurate but only date back to 1790.
They also offer family tree information. Family trees are diagrams in the shape of trees that are used to represent pedigree and lineage.
Knowing your family tree can be useful in feeling connected to other people around you, and also to feeling like your past has a part in your life today.
Ancestry.com is a great resource if you are able to afford it.
In terms of providing records, they have many more than competitors. They also have the option to expand into a AncestryDNA test if you continue to be interested as you learn more about genealogy.
Aside from the financial barrier, there are few reasons not to choose Ancestry.com if you are ready to learn more about your history.
2. FamilySearch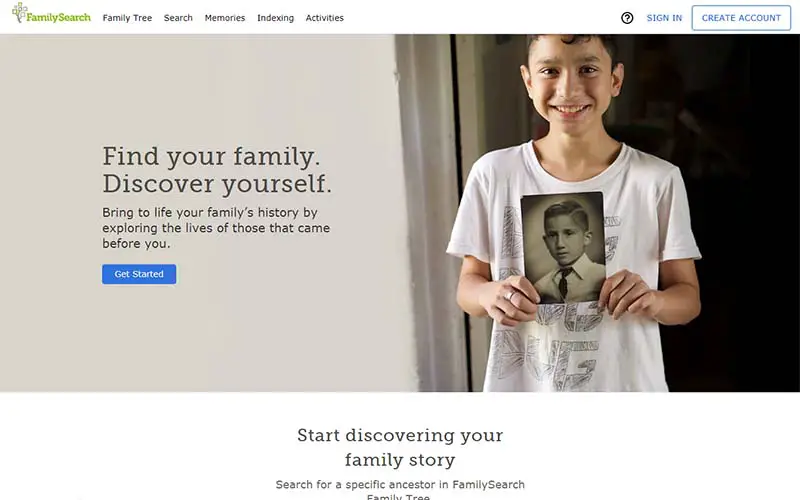 FamilySearch.org is a non-profit whose mission is to help everyone discover their family history.
They are a database of records that are generally successful in crafting a family tree for its users.
They believe that knowing your family tree is important to living a fulfilling life, and it is an opportunity that everyone deserves.
Because FamilySearch is a mission-based non-profit, they do have limitations to the services they provide.
The non-profit is founded by The Church of Latter-Day Saints, and they offer several styles of service:
Online records
In person help
Mobile apps
Online records are the easiest to access, and you can make an account to find yours on FamilySearch.org.
FamilySearch is the world's largest family. There is an extensive database of information about more than 1 billion records.
In fact, a lot of the records are provided by for profit competitors such as ancestry.com and myheritage.com.
If you know any information about your family tree, you can create an account and start adding all of your resources.
After you add everything you know, the database will fill in the rest of the information to the best of its ability. It will help grow and add to your family tree.
Especially when a family lives in multiple places, it can be helpful to have a living record that changes as it grows.
FamilySearch.org also offers in free person help at several locations. There are Family History Centers and FamilySearch affiliate libraries across the globe.
The locations are most frequent in the United States, western Europe, and Australia, but you can find them in every continent but Antarctica.
FamilySearch mobile apps are available for Android and Mac phones. If you are frequently on the go or prefer pursuing hobbies on a cell phone over a laptop, this may be a great resource for you.
Through the app, you are still able to build your family tree, record family events, find connections to FamilySearch users, and participate in other fun features that are a part of the website.
3. Archives.gov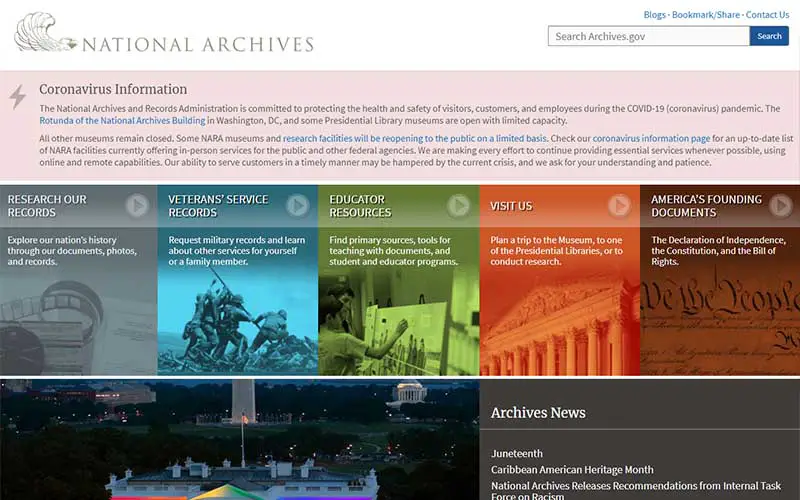 Archives.gov is a bit different from the other options because it puts you in charge of being your own genealogist.
It is also tailored to American citizens as it is an archive by the United States government.
This is a website of the National Archives, and all the public records are available to you with some boundaries such as wait time and location.
The National Archives allows you to do several services such as
Research records
View veteran service records
Access education resources
The research records available are used by amateurs, professions, curious individuals, and anyone in between.
The research records include census, military, immigration, naturalization, and land records.
You can search easily by just a last name or by choosing more advanced features. All of this is free and easy to do on the website.
The more refined a search can be, the more likely you are to find details that you are looking for.
Many military records are already available online, but you also have the option of requesting the ones that are not from the United States government. Military records that are online vary by war and era, but they tend to include casualties and sometimes photographs.
Even the records that are not online are still free. They just take more effort to obtain.
The National Archives currently provides many free resources for educators. This includes ways for them to further their own education and also to help provide them with activities for K-12 students.
Since the coronavirus pandemic started, additional resources were added to help with online education.
Freedom of Information Act (FOIA) records are available for free as well through the National Archives, but you must request them individually and be given specific access after each request.
There is an Electronic Reading Room which is part of the National Archives that provides all users with access to the FOIA reports that are most commonly requested.
4. MyHeritage
MyHeritage.com is similar to Ancestry.com in how it functions.
To begin experiencing it, you will need to sign up for a free trial or start a paid subscription. Once you do this, you will be gaining access to billions of records.
MyHeritage.com focuses on several features:
DNA test
Billions of records
Family tree building
The DNA test is one of the main reasons people tend to join the MyHeritage site. The website shares that it is able to differentiate between over 2100 different regions.
That is enough for it to distinguish between and share with you about ethnic groups and heritages from all over the world.
It can reveal great insight into the origins of your family. If you choose to receive the DNA test from MyHeritage, it will cost you a onetime fee of $59.
This is competitive with market rates, and the quality of the test is comparable. The test itself is a self-administered cheek swab.
You will be able to do it in two minutes, mail your sample in an envelope that is provided, and receive results in about a month.
It is easy enough that most people can do it without additional support. In addition to matching your DNA across the MyHeritage community of DNA sample takers, your sample will also be matched with their database of billions of records.
This is an extensive database that covers every region and has 42 languages of data to work within.
Additional records available from MyHeritage.com are census and voter lists, family trees, vital records, and some military records.
DNA testing is important because it can confirm and re-evaluate family trees. Once you know the results of your test, you are able to use the MyHeritage website to create your own family tree.
You can import yours from a previous site if you would like so you do not have to recreate work that you have already done, or you are able to start from scratch.
The family tree function from MyHeritage is user-friendly and constantly updating.
As the website is always adding new records, if something is obtained that reveals more about your genealogy, it will update you via email and change your tree automatically.
You will always be able to look at the most accurate version possible. To start, you just need to share your name, email, and date of birth.
Related: Is MyHeritage Accurate?
5. FindMyPast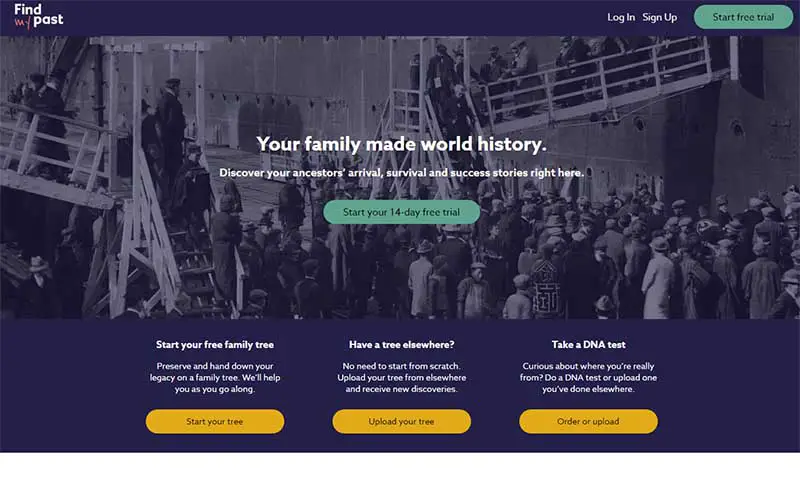 FindMyPast.com is a company that focuses on providing accurate vital records of information for North American families, dating back to the early 1700s.
It has over 8 billion records and covers 90% of North America. Overall, that is an extensive amount of records for a relatively small region.
Ancestry sites are common, but the specialization on the British Isles is unique.
FindMyPast.com is not useful for North Americans whose origins are from elsewhere, but it is highly useful for people who could use their data and otherwise would not have access to it.
This includes
The largest online archive of British and Irish newspapers
Many more Irish records than any other site
An expert genealogist to help you on your search
Old records of families, births and deaths, and historical events are most likely to be in British and Irish newspapers.
Without a database, and especially if you are located in a different country, it is almost as important to access these items and learn interesting facts about your relatives.
An online archive makes this data available to family members from all over.
Even if you have access to the right articles, it can be challenging to search them efficiently. Most people do not have the time to sit in a library for hours and pour over old records.
When databases become digitized, they are also easier to search for keywords such as names and locations that are relevant to your family.
Searching for records can be frustrating. You can be looking in all the right places and still be unable to find what you are looking for.
If you are using a small database with many holes, it is usually a waste of time or a piece of luck if you manage to find what you are looking for.
FindMyPast has more Irish records by far than any competitor. It actually has more than twice as many which makes it more likely to provide results.
An additional feature of FindMyPast is that you will have access to an expert genealogist.
Tracing the history of your ancestors can be challenging, especially if they live in many places or did not leave well-documented accounts of their lives, like so many.
An expert genealogist can help you when the path becomes less clear and steer you in the right direction to answers about your history.
6. LegacyTree
LegacyTree.com is a unique style of genealogy research site than the ones we have previously seen.
Typically, the way these platforms work is that you are the primary searcher by providing information about yourself such as your last name and potentially DNA.
LegacyTree takes the burden away from a user by connecting you with an expert genealogist.
LegacyTree can be a useful tool for certain people. It consists of a unique structure:
Consultation
Research
Product
If you are interested in joining LegacyTree, you will begin with a free consultation.
They will explain the types of research they do and see if you are interested in moving forward.
If you choose to do so, an expert genealogist from their team will be assigned to research your family history.
The research they do is extensive, through in-person library sources in addition to online records.
Once the research is complete, LegacyTree puts together a binder for you and creates a private webpage so you can share what you are learning with friends and family if you choose to.
In addition to the reports, they are able to create for you a family history chart to represent your heritage or a family history book that you could share.
LegacyTree is a great option if you have a research goal or question in mind that you would like to hire a genealogist to solve.
If you have general curiosity, however, it is likely expensive enough that it would be better for you to choose a different site.
The basic plan that answers a research goal and takes about half a year to complete costs $2950.
Is Ancestry Better than FamilySearch?
Although there are tons of competitors, Ancestry.com and FamilySearch are two of the most successful genealogy websites.
Each one has strengths and weaknesses, and it is helpful to know what you are looking for before you commit to a use or subscription with either one.
If you are considering one of these options, here are a few tips to keep in mind before choosing:
Be aware of what you are willing to pay before committing
Look for the option that fits your research needs
Make sure the option you choose is user friendly and accessible
Some of these sites are expensive and have recurring fees while others are entirely free or offer some free services.
It is important to know that you can afford what you are expecting from a program before committing too quickly.
If you think you can find out everything you need from a free trial, that may increase your options as well.
If this is a service you will have an ongoing need for, definitely keep the costs in mind.
Ancestry.com and FamilySearch.com offer very different services. They specialize in different topics in the genealogy field and they meet user needs in different ways.
If you are trying to choose between one of them, it is important to know what your needs are.
If you are experimenting with them for fun, you will have a bit more leeway, but it is likely that you have specific questions you want to find the answers to.
You want to be sure that you choose a company that is a good fit for you.
If you are less tech savvy and would prefer an in person location to research your lineage, that is something to keep in mind while choosing a program.
If you are comfortable calling customer support for a large company and asking questions that way, that is another option to look for when you are choosing.
Both of these companies have extensive histories and are experts at what they do.
Whichever one, or both, you choose is dependent upon what works best for you. FamilySearch and Ancestry.com are good ancestry sites to start with if you are new, since these sites are highly accurate and user-friendly.
Pros of Each
Ancestry.com is a massive database.
It is one of the oldest genealogy for profit companies and is most likely to have the historical data you would be looking for.
In addition to typical genealogy records, you can also receive an easy DNA test through Ancestry.com or use the website to locate the grave of a loved one.
DNA tests are an effective way to see what you have in common with your ancestors.
Ancestry.com has over 10 billion records and 3 million paying subscribers.
As mentioned previously, it allows for you to create an online family tree with the information it finds about your lineage, and you can edit and contribute your own knowledge to supplement theirs as needed.
FamilySearch.org is an entirely free database thanks to their mission of helping all people find and understand their family history.
They are able to offer the world's largest family tree.
Their database is constantly growing as they acquire new data, and you are able to contribute to it as well and connect with people all over the globe with shared information.
FamilySearch.org is a fantastic starting point because it is free and has fun features that can help you become more engaged with your search.
If you live near an in-person center, it can be rewarding to stop by when you have free time and chat with an expert as you begin your exploration.
If you enjoy supporting non-profits, FamilySearch.org allows you to contribute by indexing information for them.
This is one of the ways they are able to keep the platform free to all users, in addition to accepting donations.
FamilySearch also has fun features, allowing you to do activities such as comparing your face to that of a distant relative.
If you prefer in-person help, there are over 5,000 local centers to choose from worldwide.
Today, these local centers are limited in their capacity to accommodate too many people because of the pandemic, but you can still get help there if you need to.
Cons of Each
Neither of these platforms is perfect so when you choose what to use, you will probably be sacrificing something.
It is helpful to know the downfalls of each site before committing to one.
Although you can try it for free for two weeks, the monthly subscription that contains access to all data is $49.99.
The least expensive version is $24.99, but it omits many of the records that make Ancestry.com worth choosing in the first place.
The DNA test price varies with different promotions, but it is generally around $99.
Ancestry.com is also an entirely remote platform, so if you need help you would need to contact someone electronically.
This can be frustrating for people who prefer in person customer support.
This can be a major or minor drawback depending on how much you value customer support and how often you rely on it.
FamilySearch.org has significantly fewer records than Ancestry.com and is geared more towards an amateur with mild interest or a onetime curiosity.
The non-profit has some tools to help educate you on more in-depth genealogy, but the focus is more on making the beginning research fun and worth exploring.
FamilySearch.org does have locations across the globe where you can get in person help, but they are spread out so people living in rural areas are less likely to be able to connect this way.
In many cases, online customer support will be the best option to ensure a prompt response and easy access to someone who can answer your questions.
Read next: